Home > Surfing Tips > Stand Up Paddleboards
Stand Up Paddle Boards Guide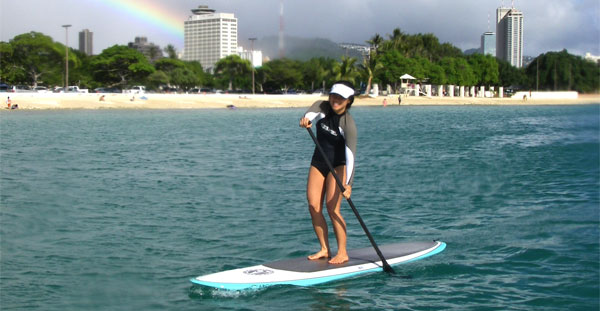 March 21st, 2007 -- Stand up paddle surfing is currently all the rage in the surfboard world. When surfing at most of the popular spots in Hawaii, seeing surfers paddling into waves with carbon paddles is hardly uncommon nowadays. Many swear that stand up paddle boards provide the ultimate cross training for tradional paddle in surfing by strengthing the core muscles which greatly improve strength and balance.
Laird Hamilton popularized stand up paddle surfing a while ago and now, a large number of shapers offer at least one type of stand up paddle board model. Even Al Merrick, normally known for his high performance shortboards and world titles has produced a somewhat strange but unique stand up fish surfboard. Rob Machado swears by it and claims that it is the best performing paddle board out there today.
Stand Up Paddle Gear
Stand Up Paddle Boards for Sale
Stand Up Paddle Bags
Stand Up Paddles
Stand Up Paddle Board Dimensions
For those new to stand up paddle surfing, these boards range between 10-12 feet long, around 26" + wide, 4" + thick with lower nose rocker for better gliding and increased tail rocker for easier manueverability.
Stand Up Paddle Resources
A look into stand up paddle surfing
Stand Up Paddle Surf Shops & Shapers
Kimo Greene Surfboards
50 S Sand Island Rd. Honolulu, HI 96819

Custom stand up paddle surfboards and longboards.

Tropical Blends Surf Shop
907 South Queen Street - Honolulu, HI

High quality epoxy stand up paddle boards from Hawaiian shapers Ed Angulo, Dennis Pang, Mike Casey, Kyle Bernhardt, and Chuck Andrus.

Stand-up Paddle Shapers
contact
us to get listed!