TORE Surfboards Giveaway Winners
Here is the first lucky winner of our TORE Surfboards Giveaway. Andrew R. from Honolulu won a brand new 6'0 TORE Truth surfboard. One lucky surfer will walk away with 3 TORE surfboards during our next giveaway! To enter, sign up for our Surfboard Shack Newsletter.
Winners
Giveaway #2 :: Skip M. - Kaneohe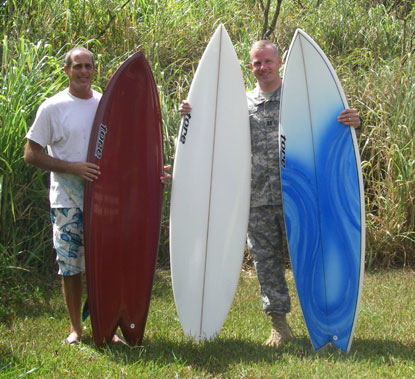 Skip M. of Kaneohe, HI was the big winner of our 2nd giveaway. Skip, a proud member of the United States Army and converted Surfboard Shack user (formerly a Craigslist user) won a 3 board quiver from TORE Surfboards. Pictured above with Kent Senatore of TORE Surfboards, Skip won a Circa 70 Retro Fish, Truth Shortboard, and Rocket Fish. Stoked!
We'll have our final surfboard giveaway in late December/early January 2008. This content is open to surfers in all 50 states!
In the meantime, feel free to contact Kent if you have any questions about a custom board or just want to chat about board design.
Giveaway #1 :: Andrew R. - Honolulu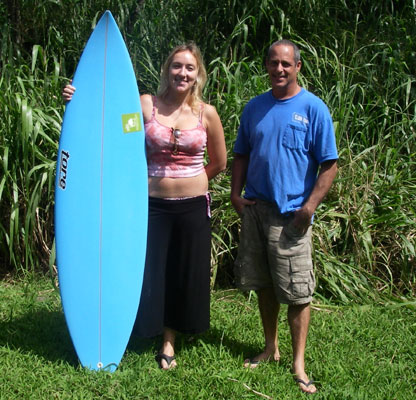 Photo: Andrew's girlfriend was nice enough to pick up his board for him (he had to work). Pictured with shaper Kent Sentatore of
TORE Surfboards Hawaii
.