Knowing your board
By Kent Senatore
Tore Surfboards Hawaii, North Shore, Oahu


Since the early 80's, the most popular and best selling surfboard design has been the high performance shortboard. But over the last four to five years, things have changed drastically and these days surfers are much more open to experimentation and trying different designs. On an average day at the beach you'll see every type of surfboard design under the sun from fishes to eggs, hybrid fun boards to classic noseriders, and quads to traditional thrusters.

In an attempt to reduce any confusion among the less experienced surfers out there or perhaps some of the diehard shortboard enthusiasts, we've written a short description on each of the major design groups including each surfboard's performance characteristics, type of surf they're best suited for, and level of experience required to get the most out of their design.

Please keep in mind that these are only rough guidelines, and each surfer is different. A few surfers may have differing opinions on certain board designs that we suggest for a particular type of wave. Each surfer's preferences and physical ability vary greatly, just like the infinite number of surfboard combinations. The goal of this board guide is to give surfers the general idea behind each design and help you make a better choice when deciding which board is best suited for your needs. Don't forget that keeping your board ding free will maximize your magic board's life. We recommend padded surfboard bags for your entire quiver.
Surfboard Types
Fish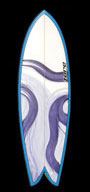 Fishes are short and wide with flat rocker in the entry and tail. The Modern Fish, also known as the Rocket Fish have three fins. Conversely, the traditional fish (circa 1970's) was designed with twin keel fins. Fish surfboards catch waves surprisingly well despite their lack of surface area (most fishes are substantially shorter than a surfer's normal shortboard), mainly because of its flatter rocker, allowing the board to plane at a lower speed.

The shortness of this design creates a tight turning radius, making the board better suited to small waves but the above average surfer can also make them work in medium size surf as well.

Because of the added width, fish tend to ride flat on the wave and don't transition from rail to rail very well making them difficult to surf vertically. However, the flat rocker and quick planning make this a very fast design that loves to race down the line and fly past slow sections on the wave. The fish is best for intermediate to advanced surfers.
Eggs
Eggs are similar to fishes in that they have flatter rocker and plane quickly, allowing them to catch waves easily. Traditional style eggs have a single fin and today's modern design utilizes a 2+1 fin setup (large center fin with two smaller side fins). Adding the side bites to the longer center fin helps the rider perform harder rail turns without the fear of spinning out, which is an inherent drawback of the single fin design. Eggs also have more curve in their outline than fishes which equals better turning.

Like fishes, eggs are usually shorter than 6'0" which makes them best suited for small surf, however, the above average surfer can adapt and make this design work in medium size surf as well. Because of the added curve in their outline, eggs have a smoother rail-to-rail transition than a fish and love carving big round house cutbacks. The egg's flat rocker and quick planning ability create the same speed as fishes and are best suited for intermediate to advanced surfers.
Shortboards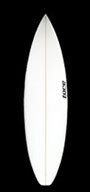 Due to the highly competitive nature of the shortboard market, high performance shortboard designs have become very generic in recent years. Most shapers play follow the leader, making only subtle changes in bottom contours and outline to differentiate their designs from one another. Most surfers lacking a trained eye in board design will not notice or feel much difference from one shaper's design to another.

Basic shortboard surfboards feature a single to double concave and three fins (thruster set-up). These boards are thinned down as much as possible creating a board that lacks floatation and offering poor paddling ability. To the novice surfer, shortboards can be very difficult to catch waves on and unless you're a surfer of considerable skill, shortboards prove to be very difficult to ride in weak/small surf. These boards are designed for performance minded surfers and are designed for quality surf.

Shortboards need to be turned continuously to generate speed and if you posses this kind of ability, you'll likely be able to do any type of manuever you can imagine including airs, tail slides, floaters, reverses, etc. The shortboard design is definitely meant for the intermediate to advanced level surfer and will create serious problems for a beginner.
Retro Single Fins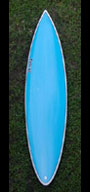 The retro movement is a product of the previously mentioned open-minded trend towards experimentation. If you want to truly understand the history of surfboard design, it makes perfect sense to try a single fin. Surfing one will help you see why the advent of the twin fin and thruster were such significant turning points in the evolution of surfboard design.

The single fin's template features a wide point forward of center and the thickest point of a single fin is also past center. Having more volume under your chest makes this type of board easy to paddle offering high wave catching ability. By moving the widest point forward (which also creates a straighter and narrower tail), the single fin outline encourages the board to track down the line. The typical single fin bottom features vee starting from the center of the board and flowing to the tail which helps to counter the straightness of the outline and allow the board to roll from rail to rail much more freely.

Single fins can work in any size surf but surfer beware, you'll need to nurse your turns in order to keep the fin from releasing and causing the dreaded spin out. As mentioned previously, riding this design will offer you a greater appreciation of the effortless turning modern surfboard designs provide. Because of the added volume and ease of paddling inherent to this design, retro surfboards can work for a variety of abilities anywhere from from a total beginner to the more advanced surfer.
Funboards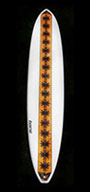 Funboards are aptly named because they allow the rider to focus on the purest goal of surfing which is having fun! The outline is basically an overgrown egg which is why some shapers call their funboard designs eggs. This type of board incorporates all the elements of modern surfboard design including moderate rocker and standard rail shape.

Funboards often times utilize thruster fin set ups and their ample volume and length allow the rider to paddle, catch waves, and turn effortlessly. Most shapers will agree that for average surfers, funboards provide the best of both worlds: the paddling power of a longboard and the turning ability of a shortboard all blended into one.

The design works well in small to medium size surf, however, funboards loose their charm in large surf. This design is a great all around board that works well for all surfers but is best suited to the beginner or the rider making a step down in length from a longboard towards a shortboard.
Mini Tanker

This board is for all intents and purposes a smaller version of the typical longboard. Mini tankers feature the same design elements as longboards. Depending on the rider's preference, mini tankers can ridden with wide noses and concave for noseriding, or a pulled in, slightly pointed nose for a more performance-oriented style of surfing. Due to the shorter rail line it will obviously turn quicker than the typical longboard, yet still paddle and catch waves effortlessly.

These boards will work in any size surf but are most commonly ridden in small to medium size waves. The mini tanker's smaller size are best suited to the weight and body size of women and children but are often ridden by average sized men as well. This is another great all around board design that works well for surfers of any skill level.
Longboards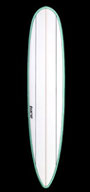 Longboards are loved and hated by all. If you're on a longboard, you love riding them. However, If you're on a shortboard, chances are you'll hate all the longboarders in the line-up. The truth is, riding a longboard puts you as close to the roots of surfing as possible. Even hot-dogging, the earliest version of high performance surfing style began on boards over nine feet long.

On a board that catches any wave with ease, you'll increase your wave count and learn, or relearn, depending on your background to appreciate the simple joy of riding a wave. Just try not to get too greedy when surfing in a mixed line-up. Because of it's length, width, and thickness, the longboard is often referred to as tanks or tankers. Ironically, these are design attributes that allow any rider the ultimate in paddling ease and stability, making them the best beginner boards available. Depending on the type of surf and how the board is ridden, longboards feature a variety of fin setups from a single fin, 2+1, or thruster fin set up.

The longboard's straight rail line makes it trim effortlessly down the line but requires strength and good technique to perform. Noserider longboards are usually thick and bulky with concave in the nose while high performance designs are thinner with more rocker in the nose and tail. High performance longboards at times also utilize a concaved nose for increased nose riding ability. Most longboard bottoms utilize vee, blending from the center and flowing off the tail while some high performance models offer vee with concave running through it for added speed. Longboards work in any size wave and for surfers of any skill level including rank beginners to life long veterans.
Semi-guns

Semi-guns or mini-guns are sleek, elegant, and beautifully foiled boards. Meant to be ridden in medium to large surf, they're highly specialized and are usually designed with a particular type of wave or a particular spot in mind, i.e., 'Pipe board' (semi-guns used at the Banzai Pipeline). Because semi-guns are so surf spot and rider specific, we won't get too deep into design characteristics.

Semi-guns fill the gap between shortboards and guns and are basically a longer and beefier shortboard while maintaining most of the same design elements. The outlines of a semi-gun is slightly wider and the thicker, often by 1/8" to 3/16".

We recommend that each surfer work closely with your shaper to develop a board suited to your specific surfing needs. Semi-guns are for the advanced to expert level surfer.
Guns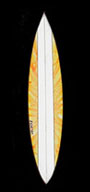 Guns are serious boards for the serious surfer and are designed for riding the largest days of the year. Chances are if you need this type of board you're probably not going to be reading this but for the sake of education, we'll describe them briefly. You can think of guns as a survival tool rather than a performance design because only the best of the best do anything more than just survive the giants waves ridden on these boards.

The objective in big wave surfing is to get into the wave early, get down the face, and make the wave. Consequently, these boards have vee bottoms which creates suction and control, in effect holding you on to the face of the wave. The last thing a surfer wants on a large wave is to spin out at the bottom of a twenty or thirty-foot wave.

Gun surfboards need to be thick with the wide point slightly forward of center for maximum paddling efficiency and cover a lot of ground in a short time. Guns are normally thrusters or single fins, but recently the four fin has become a viable option as well. This type of board is for the advanced or expert surfer only.

Surfer/Shaper Kent Senatore of Tore Surfboards Hawaii has been making custom surfboards since 1980 and has an impressive resume. He has a proven track record and a unique ability to connect on a personal level with every customer. Kent's commitment to quality, attention to detail, and personal service are guaranteed to improve your surfing experience on every level.


Related articles

A Beginner's Basic on Surfboard Designs
Board design for more advanced surfers
Surfboard History
Surfboard Reviews
More surfing tips